Jeffrey K. Binder Precision Estimating System Consultant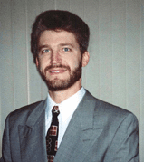 From estimator to manager of Precision's database. From estimating system sales to database consulting. Jeff Binder has seen all sides of Precision Estimating, from implementation as a user, to training others on how to use it.

With a background in Civil Engineering and 11 years of commercial estimating experience in general construction (including 4 years using Timberline's estimating software), Jeff began working as a consultant on Precision's Extended system in 1992. He was later certified by Timberline as a Precision School Trainer in 1993. Originally involved in both sales and installation, he now focuses on custom database development, training, installation, integration to other systems, and implementation of all related Precision products.

Jeff's comprehensive industry experience and software product knowledge gives him a unique ability to get clients "up-and-running" quickly. His interest in Computer Integrated Construction helps him tie the estimate to Job Cost, Purchasing, Scheduling systems, and MS Office products like Excel. "All information must remain in electronic format, otherwise it creates a dead-end for the data", he comments.

Since 1981, Jeff has been involved in many aspects of general contracting. He specialized in general construction estimating, which included site work, concrete, masonry, carpentry, thermal/moisture, finishes, and specialty trades. He used Precision to estimate concrete, masonry and carpentry for a large commercial general contractor which self-performed about $20-30 million of these trades per year. His astute attention to detail and industry knowledge gives him the skills needed for development and modification of databases, for a great variety of trades.

As an estimating consultant, Jeff has been exposed to the various needs of many different companies. He enjoys the challenge of providing solutions to estimating problems for his clients, and helping them get the most from their software investment.

Designated trademarks & brands are the property of their respective owners.
Precision Estimating is a registered Trademark of Timberline Software Corp.
Master Builder is a registered Trademark of Intuit Inc.